The view from the mountain top
Do you dare to go mountaineering in flip-flops? We invite you to take a virtual hop on to and around Slovenia's 30 most popular mountain tops, cross the narrow Triglav ridge, or descend by zipline from the summit of Slovenia's highest mountain.
IMPORTANT NOTICE: Unfortunately, children under the age of 8 are not permitted to go virtual mountaineering.
The Triglav virtual zipline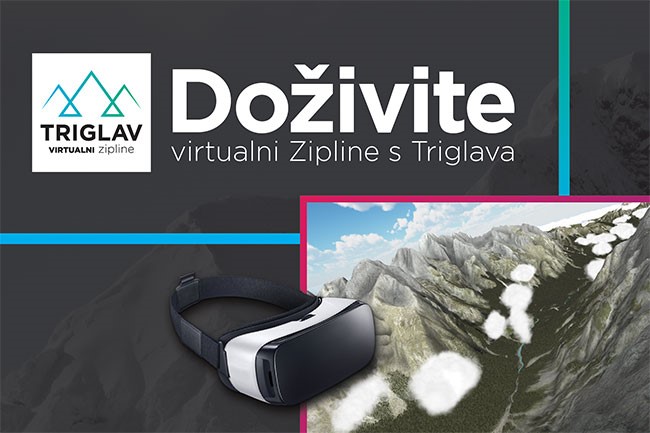 A daring aerial descent from the summit of Triglav is a breathtaking virtual close-up experience of Slovenia's highest mountains. The flying fox will glide above the beautiful Vrata Valley straight to the Slovene Alpine Museum, where you will embark on a museum adventure through the history of mountaineering.
Dare to experience the longest virtual zipline in the world!
Each and every Slovene to the top of Triglav
This wish is more than one hundred years old. Even then the Dovje parish priest, Jakob Aljaž, strived to fulfil it and make Triglav accessible to each and every tourist, as mountaineers were called in the olden days. To ensure a safe ascent he arranged for several trails leading to the top to be laid out. We here at the Slovene Alpine Museum fully support the idea of a safe climb, but at the same time we want to grant the wish of standing at the summit of Triglav once in a lifetime to as many people as possible. Do you dare take a look? We can make it happen – although only in virtual reality.
Have you ever conquered Rombon? What about Ojstrica? Have you ever enjoyed the view from Tromeja na Goričkem? There might be many reasons why not, but now at the Slovene Alpine Museum you can take in the view from 30 mountain-tops around Slovenia. Hop from one mountain-top to another within seconds and enjoy the 3-D panoramic view.